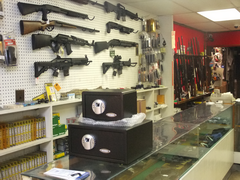 W
elcome to the new and renovated G&S Hunters gunshop and shooting club.
We are located right off of Interstate 80 West at exit 57 C, 25-30 minutes from downtown Manhattan. The shop and the range are conveniently located between Bergen and Passaic Counties, close to I-80 and the Garden State Parkway.
The pistol shooting range is at your disposal and we are gladly accepting new members. We have professionally trained and certified instructors who are able to bring your shooting skills to the highest level you desire.

Our full time gunsmiths are highly qualified to perform work on firearms from most manufacturers whether domestic or international We welcome anything from simple to highly complex projects on any type of firearm.

Furthermore, we are authorized dealers for major firearms manufacturers such as Sig Sauer, Glock, S&W and others, with a large selection of firearms in stock.
Next time you're in the area, please pay us a visit. Whether to shoot, shop, or simply ask questions, we look forward to greeting you as our valued customer.